ada yang udah nonton film ini???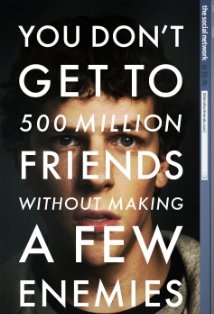 bercerita tentang CEO Facebook... .
Mark Zuckerberg
source: [You must be registered and logged in to see this link.]
Mark Zuckerberg wrote:CEO Facebook Mark Zuckerberg mungkin akhirnya memiliki alasan untuk mengimbuhkan fitur "dislike" (tidak menyenangkan) dalam jejearing sosial buatannya.

"The Social Network," film tentang asal muasal Facebook, melukiskan gambaran tidak mengenakkan dari jutawan pendiri jejaring sosial terpopuler, dengan memotretnya sebagai ahli siasat yang asosial dan pemburu status.

Dalam satu wawacancara dengan New Yorker bulan lalu, Zuckerberg mengatakan dia tidak berencana menonton film yang skenarionya ditulis oleh penulis skenario "The West Wing" Aaron Sorkin dan disutradarai oleh David Fincher yang mencipta film termasyur "Fight Club".

Namun New York Times dan media lainnya melaporkan bahwa orang-orang Facebook, termasuk Zuckerberg, telah menghadiri film itu di sebuah teater dekat markas besar Facebook di Palo Alto, California, pada penayangan perdanan film itu Jumat lalu.

"Kami pikir film sejenis ini akan menjadi bahan lawakan," juru bicara Facebook, Larry Yu, kepada the Times.

Sulit menggambarkan bahwa Zuckerberg itu bahan lawakan.

Pendiri Facebook dihormati karena berjuang sendiri membangun situs jejaring sosial itu, namun dia juga dia disebut orang yang tidak dipercaya dan tidak setia kepada kawan sekampusnya di Harvard dan juga sesama pendiri Facebook, Eduardo Saverin.

Dalam wawancara dengan pengasuh acara bincang-bicang Oprah Winfrey menyusul rilis film itu, Zuckerberg yang berusia 26 tahun itu berkelit dengan mengatakan bahwa film itu karya khayalan dan menyebut kehidupannya tidak sedramatis itu.

"Enam tahun terkakhir lebih banyak mengkoding, fokus dan bekerja keras, namun itu akan menyenangkan untuk diingat sebagaimana halnya berpesta dan semua drama gila itu," katanya.

"The Social Network," yang dibintangi Jesse Eisenberg as Zuckerberg dan bintang pop Justin Timberlake sebagai pendiri Napster, Sean Parker, yang adalah mentornya Zuckerberg, menempati puncak tangga film terlari di pekan perdananya di Amerika Utara, dengan menghasilkan 23 juta dolar AS.

Film ini diangkat dari buku "The Accidental Billionaires" karangan Ben Mezrich dan film ini adalah gambaran suram mengenai pendirian Facebook.

"The Social Network" dibuka dengan penolakan cinta teman-teman wanita Zuckerberg yang saat itu berusia 19 tahun dan mengasingkan diri di ruang komputernya, mengorek-orek program sampai kemudian menciptakan Facebook.
Last edited by Admin on Mon Oct 18, 2010 1:10 am; edited 1 time in total

Administrator

Administrator





Posts

: 577



katanya bagus tu min, belom terbit namun..

Cyrill

Member





Posts

: 95



Cyrill wrote:katanya bagus tu min, belom terbit namun..
itu laaa...
untuk previewnya
gw post di top page aja yah ^^

Administrator

Administrator





Posts

: 577



---
Permissions in this forum:
You
cannot
reply to topics in this forum